KAMPS sponsor of the world championship 505 class Belgium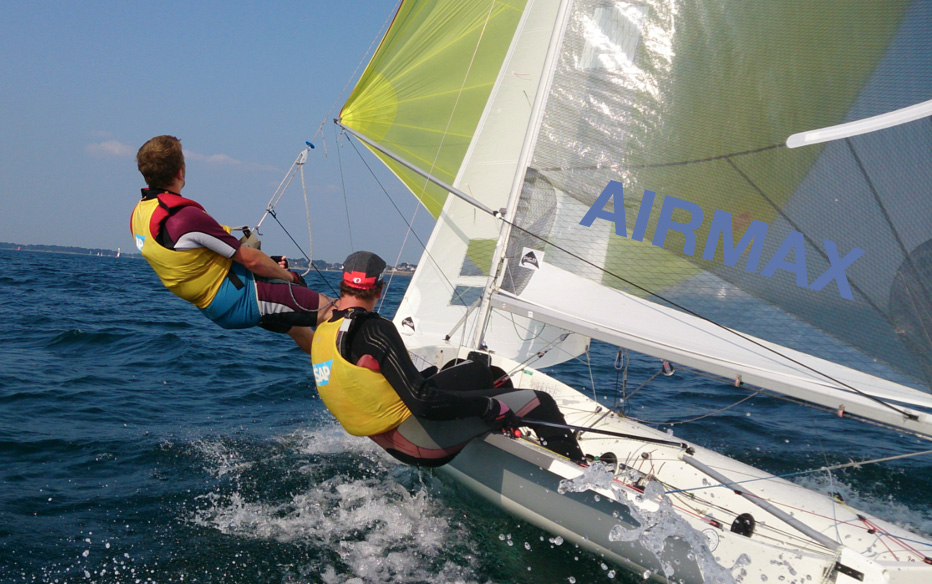 Moving a mobile in water and air with a minimum of energy is a real challenge since AIRMAX is born!
The 505 Class is a light weight sail boat, high performance, hull design with many inventions and still evolving. This boat was developed in the 1953 at La Baule in order to find the "best possible two-man centerboarder". A logical choice for KAMPS as a sponsor. Never go slow again ! Planning begins in 10 knots of wind, one trapeze to compensate the torque and getting sensation.., adjustable shrouds, mast ram which allow rig tension, rake and bend to be changed while racing, the 505 is a boat that you will never forget.
Hulls are built of either fiberglass/ polyester or of epoxy resin/Kevlar and honey composite according the latest technologies.
When the researcher is trying to find, the champion is getting the best but doesn't sometimes know why he gets it. Those people must work together!
Sail technology is based on hydraulic and fluid mechanics in two-phase medium. This particularity is leading the KAMPS R&D. The low speed surface aerator is a device moving in water with a minimum of losses in energy. The principles are similar and needs therefore to be compared.
That's why every year, KAMPS is sponsoring the Class 505 Belgium for European and national championship.