The SOLAIRMAX is a surface aerator that works with solar energy.
It is meant for lagoons, Waste Water Treatment Plants, lakes, ponds.
The SOLAIRMAX is designed as an answer to the fossil energies reduction and to the need of sustainable consumptions development.
The SOLAIRMAX is the ideal oxygen production installation for the biological aquatic aerobic systems. The oxygen that is dissolved in the water is essential for the development of various fauna and flora. The good mixing of water helps the exchanges between oxygen and living organisms.
The SOLAIRMAX is an optimised by-product of the high efficiency AIRMAX surface aerator technology.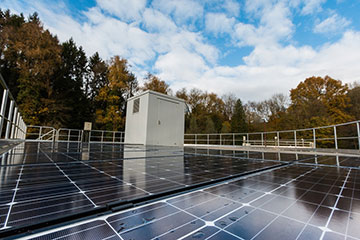 The advantages of the SOLAIRMAX:
Water oxygenation with reduction of the energy consumption.
Floating unit with a maximal sunlight (orientated to the sun – less shadow)
Almost no maintenance.
More security because of the limited access (stealing, vandalism…)
Possibility of specific oxygen transfer rate (SOTR) adjusting.
Large diameter for a better mixing of water.
Reduction of the anaerobic areas (reduction of putrefaction).
Optimised temperature of the solar panels.
Short term energy storage (oxygen in water).
Few management for floating units installation.
Technical characteristics:
Floating
Aeration Power: 2,2 ………. 22 kwp
SOTR: 6 – 55 kgO2 / h for EN 12-255-15
Material: steel, epoxy, inox
Drafttube: for deep lagoons
Options: electrical board and oxygen probe.